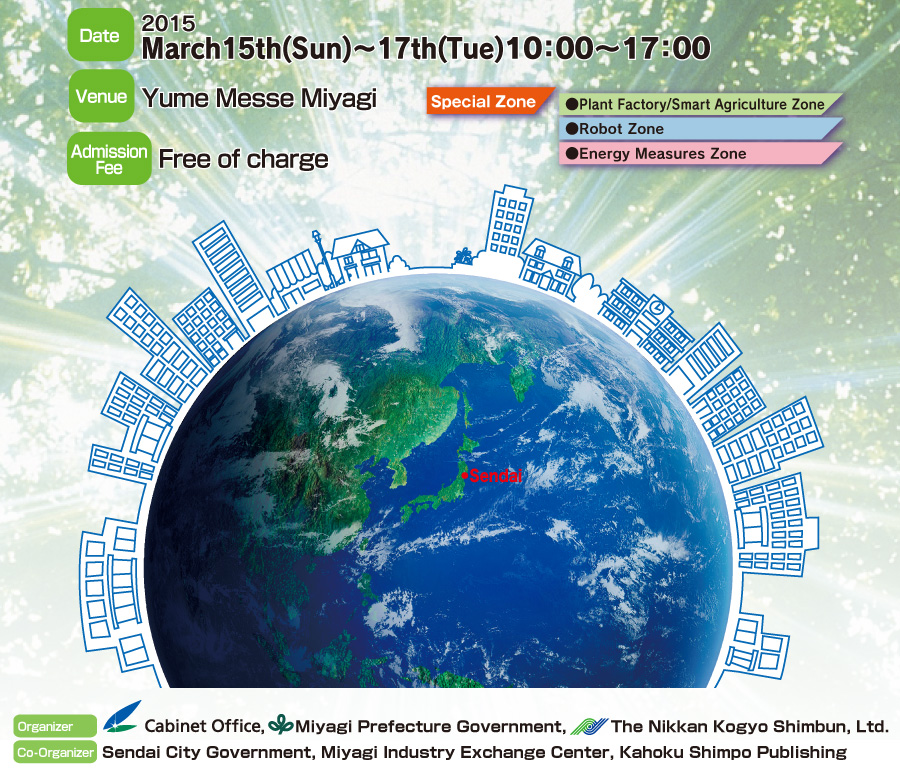 Greetings and Outline
We, Cabinet Office in Japan, Miyagi prefecture government, and The Nikkan Kogyo Shimbun, are holding '"Bosai" Industry Fair in Sendai' on March 15th(Sun.) to 17th(Tue.) in Miyagi, Tohoku. It had been organized only by Nikkan Kogyo Shimbun until last year, but this time, Cabinet Office and Miyagi prefecture joined as organizers. As a government and private cooperated organizer, we transmit latest information about disaster risk reduction.

And this year, the exhibition is settled as a related project of 'The 3rd UN World Conference on Disaster Risk Reduction' which is held from March 14th(Sat.) to 18th(Wed.). 'The 3rd UN World Conference on Disaster Risk Reduction' is the international conference to settle international strategy for disaster risk reduction organized by United Nations. Over 5,000 visitors who are government leaders, cabinet members, international institute leaders, and NGO members are going to meet altogether. Over 40,000 visitors are expected including other related events.

In 1994, the 1st World Conference on Natural Disaster Reduction adopted the Yokohama Strategy and Plan of Action for a Safer World. In 2005, the 2nd World Conference on Disaster Reduction adopted the Hyogo Framework for Action 2005-2015: Building the Resilience of Countries and Communities to Disasters (HFA) in Kobe, Japan. This year, The Third World Conference will be held to settle the new framework for worldwide disaster risk reduction. And the same time, we aim for transmitting our technologies and know-how from disasters in the past and restoration from Tohoku earthquake.

We hope that this exhibition will contribute to recovery of Tohoku, and furthermore, development of risk reduction and safety technology in the world.

We are looking forward to your positive participation.
Cabinet Office
Miyagi prefecture government
The Nikkan Kogyo Shimbun,Ltd.
News & Topics