Promotion and Advertising
Various promotions within Japan and overseas will be carried out to attract visitors who are users directly linked to new businesses.
Newspaper
The exhibition will be announced in the Nikkan Kogyo Shimbun, a general newspaper on industrial affairs, to mobilize visitors, Coverage such as introductions and feature articles on exhibitors will ensure the end users come to the exhibition.
Advertisements will also be placed in other industry papers.
Invitations
Invitations (approximately 900,000) for the International Robot Exhibition will be distributed in order to mobilize visitors from a broad range of business sectors.
Invitation cards printed in English and Chinese will be sent to embassies and robot-related organizations around the world in order to attract visitors from overseas.
Web / Online Media
Exhibitors and major exhibit products will be posted on the official website.
Exhibition and robot-related information will be introduced on the Nikkan Kogyo Shimbun website (PV: approx. 8 million per month) in order to attract visitors.
https://www.nikkan.co.jp
The latest robot news will be disseminated by "Newswitch" which is the online media of Nikkan Kogyo Shimbun.
News Releases / Press Events
News releases with information about the exhibition will be sent to approximately 500 media outlets in Japan and overseas. Further, press events will be held for various types of media to promote the event.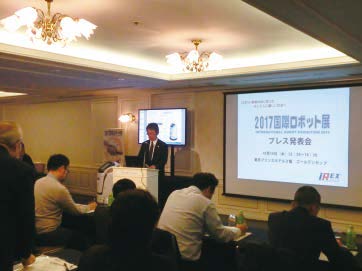 Direct Mailing / E-mail
Nikkan Kogyo Shimbun has a database of approximately 200,000 people who have attended exhibitions, seminars, and forums in the past who will be informed about the exhibition through the mailing list.
Overseas Promotion
The exhibition is promoted overseas in China, other Asian countries, Europe, and more to mobilize over 10,000 visitors from overseas.
With the cooperation of overseas-affiliated organizations and embassies, we aim to attract mainly robot users to the International Robot Exhibition.
PR booths are set up at robot exhibitions in other countries in order to mobilize visitors.
China International Robot Show
China International Industry Fair
Robot World (Korea)
Taiwan Automation Intelligence and Robot Show
Automatica (Germany) …and more